Its not only the Scuba diving that gives the Caribbean island of Bonaire it's world-wide fame. Windsurfing finds an ideal spot in a huge enclosed bay created by nature on the eastern coast of Bonaire known as Lac Bay and Sorobon.
With it's shallow water and blessed with a reliable onshore breeze, Lac Bay is acknowledged as the favorite windsurf destination of the top surfers from around the world. You may even see the world's best in training. Bonaire has hosted the Freestyle World Championship for several years. Bonaire is on the top of favorite Caribbean windsurfing vacations destinations.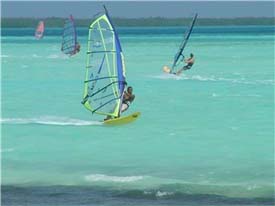 The windsurf shop of Jibe City at Sorobon offers windsurfing lessons (from the age of four), and complete courses for the advanced surfer. Without a doubt, their shop can help you with all the spare parts and equipment you might need.
You can rely on SunRentals Bonaire to do all the reservations for your windsurfing and/or surfboarding vacation.
Book Your Favorite Activity